DripFit Transformation - Michelle Thiessen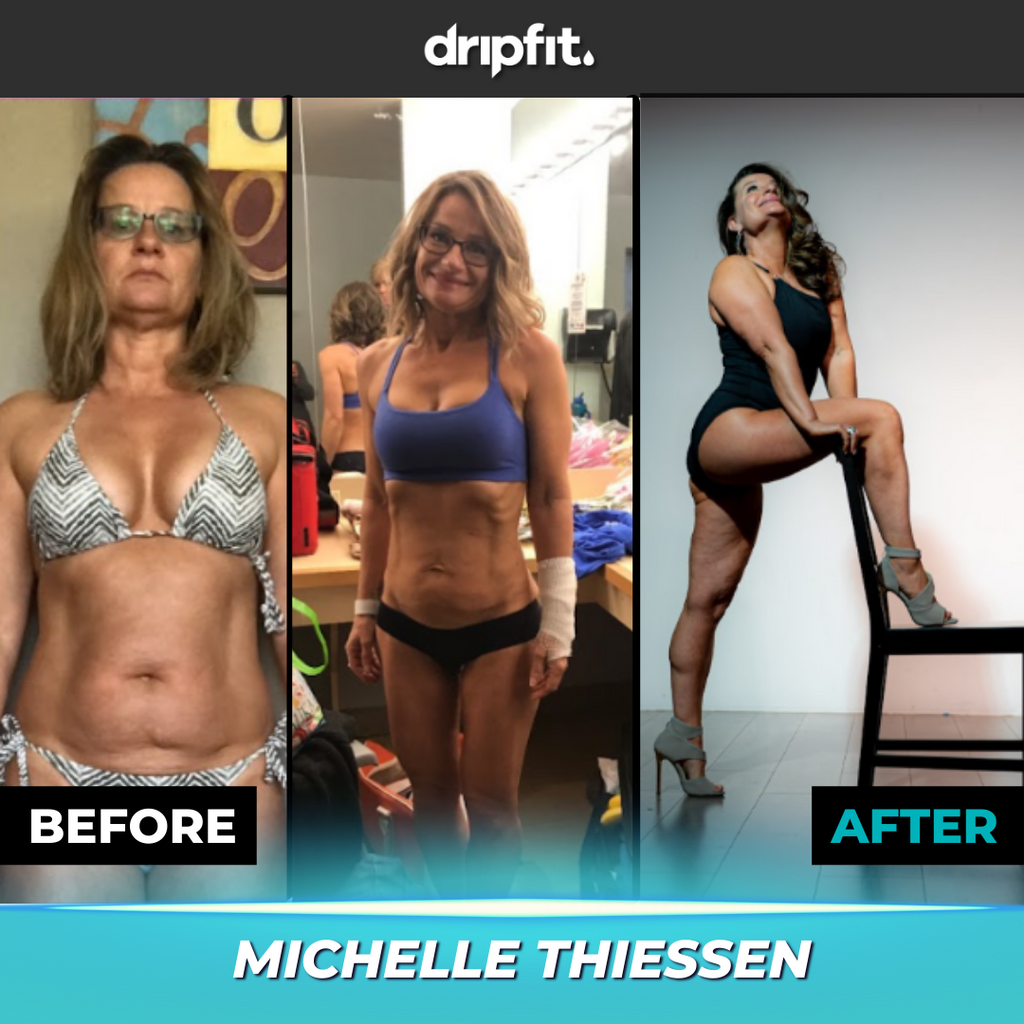 How has DripFit helped my transformation?
As an avid DripFit user for about 6 years, I've had a chance to really enjoy the many uses for it! From warming up my muscles, recovery, using it at night to promote calm, a good sleep and so much more. I really noticed the healing antifungal and antibacterial benefits of its ingredients between spray tans while in my competing days! One tan showed I had a fungal infection on my back and in two weeks after applying DripFit daily, it was gone for my next show and spray tan!! I love that DripFit is Canadian, female-owned, and an all-natural product.. but just as important and impactful, a supportive community. 
My transformation Story:
We all have a story to tell … mine ranges from childhood traumas that led to mental health adversities, identity crises on top of contracting sepsis, and spinal injuries to hormonal imbalances, and my most recent challenge at 50 years old, was shocked to learn through a DNA test that my father, was not my genetic father. It shook me to the core. But through hitting that low, I was forced to face all my fears and challenges and process them. I  learned new tools and techniques to be able to respond and reframe when I was triggered, but I can say my triggers are few and far between now, because my nervous system has healed so much! Now, I'm choosing to allow those stories of resilience to help others shine, in the midst of THEIR adversities!  Somehow, at my lowest point, where I was contemplating my worth in this world, I had very special compassionate people reach out, and I reached back and started to do the work of self-development and learned that 'small hinges move big doors', and that I am a powerful warm-spirited woman with a strong desire to come alongside others, and allow them to see their own selves with love and compassion! I now KNOW I was born for a reason, and I am on this earth for a purpose! I would be over the moon if any of my 'challenging' life experiences can bring even one person hope to take the first step to healing and self love! I must say, I'm pretty proud of this body and soul, that has supported me through thick and thin, hell and back, near death, bodybuilding shows, to now.. being stable in my weight, aware of my body and what it needs, doesn't like, and aware of my thoughts and feelings, and having the ability to reframe them towards a positive outcome! THIS IS POSSIBLE FOR ANYONE, and HAS SUCH PERSONAL POWER! WE ALL HAVE IT INSIDE OF US, we just need to unleash it! I can honestly say, on most days, I love this almost 55 year old body, and will preserve it and love it as best I can! I FEEL LIKE I LOOK GOOD here, (almost) NAKED!
FIND ME AT: 
@m_thiessen