DripFit Transformation - Larissa Lamont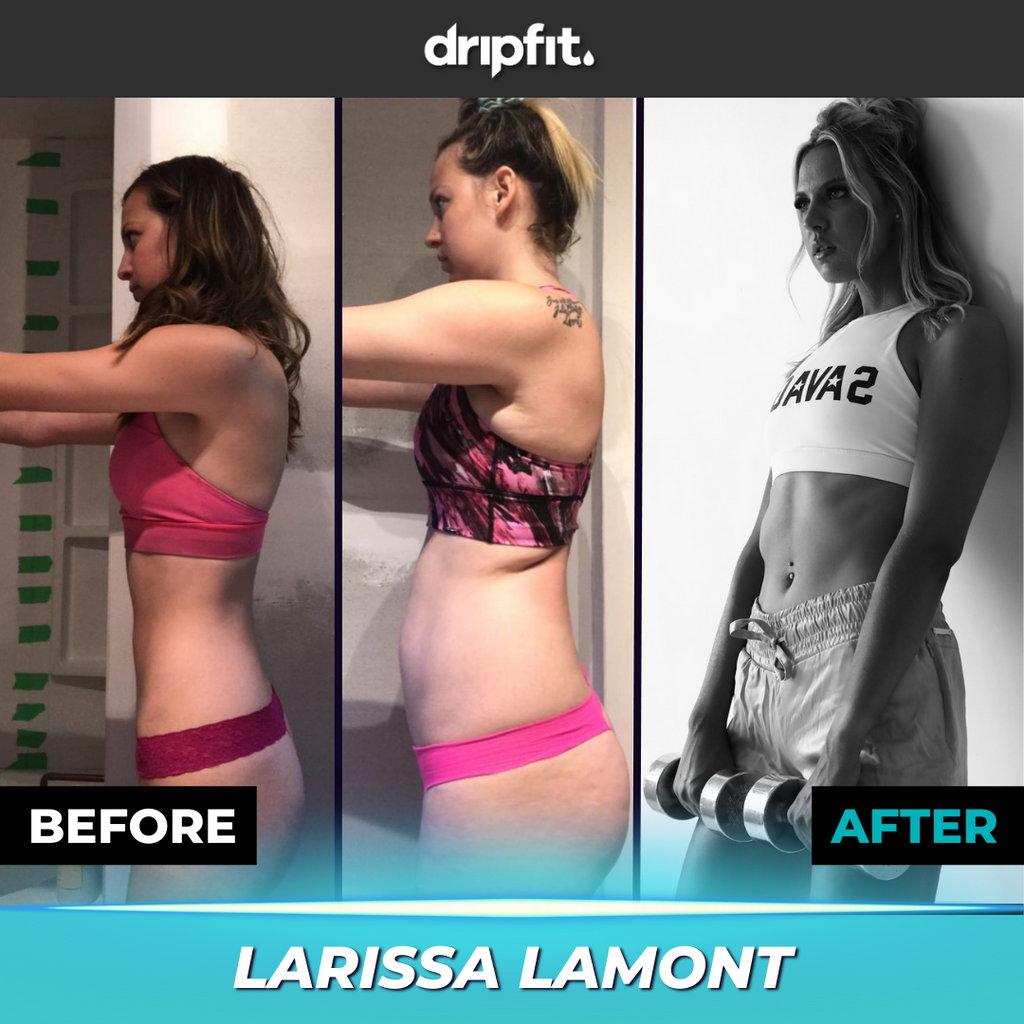 How Has DripFit Helped My Transformation?
When I first heard of DripFit, I originally came for the product (the band and cream and SipFit), but I stayed for the family and the community it gave me. This team truly makes you feel so loved and valued. I originally started in an ab challenge and fell in love. I use SipFit daily, it is a staple in my training and my morning routine. The booty bands are GAME CHANGING and I use them in ALL my lower body workouts. The glow up wipes hold a special place in my heart, as I am featured on the product information card and I use them daily for the sweaty mess I am after cardio. These wipes have also been a life saver for racing - the amount of dust in your pores at the end of the night is wild when we wipe it off with the glow up wipes. I became an ambassador because of the relationship I was able to form with Brenley, one of the most genuine souls I have ever met!!!! I never could have imagined the opportunities that DripFit has provided for me and endured with me. SipFit and the cream were alongside me in my multiple surgeries and I am forever grateful to have products to back me up in what I believe in. I continue to use DripFit every single day and that will never change. I came for the products and the community changed my life, DripFit 365.
My Transformation Story:
1 in 5 people … you know exactly where I am going with this statistic. In Canada, 1 in 5 adults suffer from a mental health illness. But have you heard of this one? 1.2 million children and youth see their mental health illness develop before the age of 18, I fell into that statistic as a child at age 2. Mental health is something that we often take for granted, but your mental health is just as crucial in a health journey as your physical health. At age two, after the sudden death of my mom, my family was told that I was diagnosed with childhood depression and anxiety. Your traumas can truly come back to haunt you if you don't adequately deal with them. As I got older, I always found outlets to manage my mental health. I am a big advocate for talking openly about it. I was always a smaller built girl, who didn't know where to start or what to do. I found my passion in running but didn't understand the implications of cardio only - this is where my journey began. Leap to 2018, in grade 12, I found out that my grams was officially being labeled as 'palliative care.' In 2020, I moved back home due to the pandemic and was studying through my university virtually. A blessing in disguise because at the time, my dad had just had surgery and my grams needed full time support. During this time of being their caregiver full time, a full time student and working full time, I saw a decrease in my own quality of life. I was eating one meal a day, most often take out, my body was tired, but I never slept, my hormones were out of whack, I wasn't exercising, my anxiety was at an all time high, which had my body in fight or flight … constantly. In 3 months, I had gained over 25 pounds. I started strength training with my coach, Alana. I knew I not only needed some 'me time' but I needed a mental outlet and to take care of my body while caring for others. I needed someone to help guide me so I could mentally check out for a bit in the chaos of life and responsibilities. I also knew that my grams had been on palliative care for almost 3 years and it wasn't going to be a reverse diagnosis. I had to prepare myself mentally and physically for when the time came of her passing. She was my rock all my life, she took me under her wing and I never viewed her as my grandma, but she was my mom, my best friend. The workouts became my outlet, my safe place, my mental clarity and thinking spot. When she passed, the gym allowed me to express all my emotions through my workouts without any judgments. To this day, my discipline in the gym is built on my mental health. Mental health is so prominent in our society but it is still something that is not talked about, and I'll tell you this, I never thought that my childhood mental health diagnosis was my story to tell. It hasn't been until my early 20s when I began talking more about this lifelong mental health, trauma and grief journey. Today, I continue to use the gym and my workouts as an outlet and to allow myself to push my comfort zone, grow, and thrive. I read in a book recently, "it was someone else's death that gave me permission to live. And perhaps the worst moment of my life was also the most transformational." (The Subtle Art of Not Giving a F*ck). It is now my mission to tell my story, to be vulnerable, to create a safe community, to show that vulnerability is badass and empathy and grief are real parts of life.