DripFit Transformation - Desiree Augusto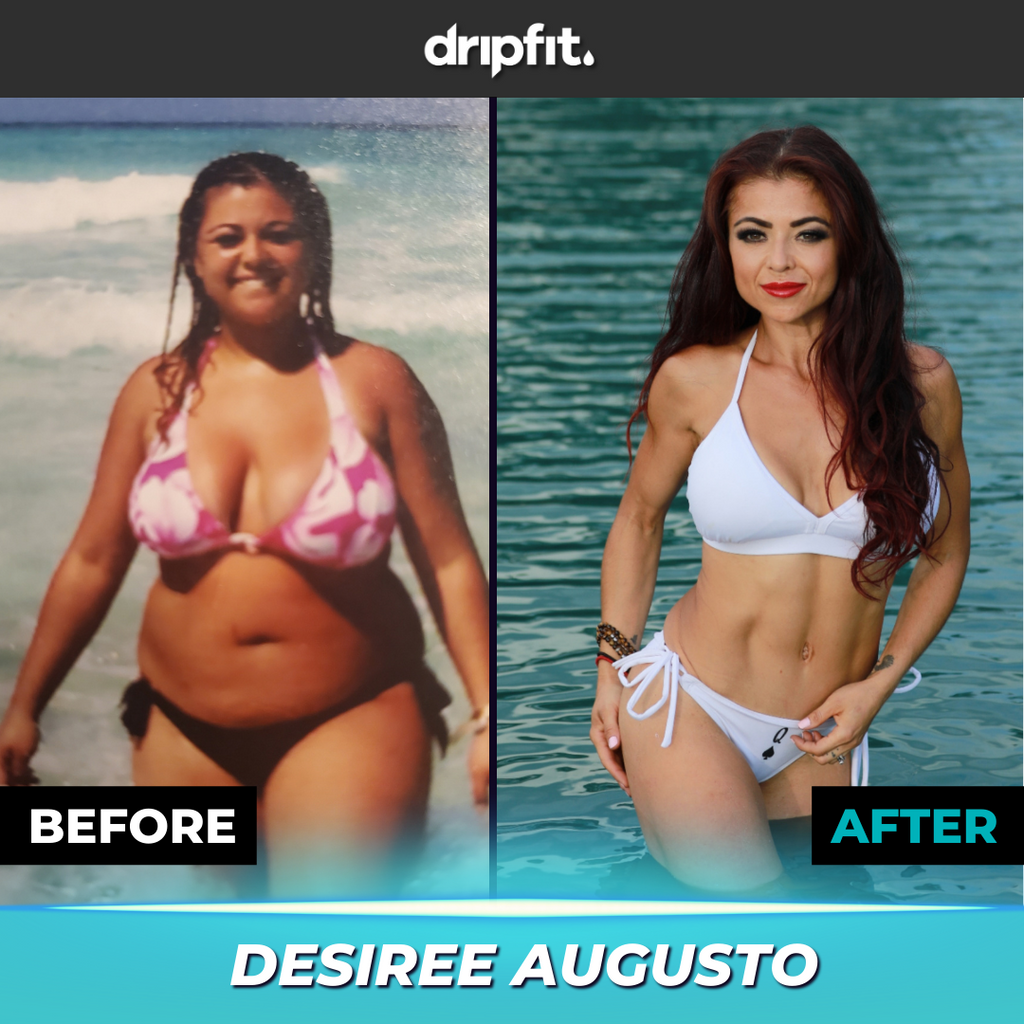 How has DripFit helped my transformation?
When I first learned about DripFit I had already lost my substantial weight. I used the cream and band and I quickly noticed a lot more definition in my mid section. My favourite part about the DripFit cream is with my injuries, the magnesium really helps me both during and after my workouts. Not only do I put it on with the band, I also lather up my joints to really help get things moving.
The sense of community with DripFit is like no other. Everyone is always so supportive and always wanting to see you succeed. 
My Transformation Story:
My name is Desiree Augusto, I am a 39 year old wife and mother. I have been married for 17 years and our only daughter is 16. Due to complications she was born 11 weeks early and because she was so tiny she stayed in the NICU for 3 months and that's where I sat ... a lot. 
I am a hairstylist and makeup artist since 2003 and in 2010 I purchased my very own hair salon. I had a very tiny clientele but I was young and ready to grow. I grew my salon into a very busy little hub for myself. Over the years I have found that this line of work has beaten my body in some ways, so I make sure to train in ways to care for my problem areas.
In the recent years, I have become certified in teaching rebounding fitness classes and got my fitness instructor certification.  Aside from my hair studio that I own, I also teach jumps classes at Humber College north campus and run a small class on my own time 1 - 3 days per week. 
Since early teens I always struggled with my weight and well into and through my 20s. I grew up with my family owning a pizza restaurant so naturally I ate a lot of it, along with a bunch of other things. This combined with my Portuguese background and the rich foods I love… well it just packed on. Years of yoyo diets, Fad diets, waist trainers, programs and none of it worked. I also participated in MMA for 6 years but my poor eating habits after our workouts made every ounce of hard work completely disappear. 
When I was in high-school I was in a rear end collision where my spine was injured, not severe at the time. Well fast forward approximately 12 years, that accident came back to haunt me. It came back in the form of compressed and degenerative discs causing pinched nerves. My doctor just kept prescribing medications. I finally went to see a physiotherapist (he's actually more like a sports medicine Dr) he told me to get an MRI and this is when we knew about my discs. He told me "you need to strengthen your core or you will suffer severely like this forever". I was in extreme pain. Working was hard, moving was hard. Just everyday tasks were near impossible.
To this day, I still believe my physiotherapist saved me. From that day forward I turned a leaf, I started eating better and I started slowly working out. I loved running, I started to drop weight and a friend at the time told me I should try kangoo dance classes. Curious, I went and absolutely loved it. I spent the next 8+ years at that gym reinventing myself. It was here that I became a part of the DripFit family, I took part in challenges and used the intensifier cream and bands often. I had lost about 30 pounds going in and lost 75 pounds total from my heaviest. The love for a healthy body and lifestyle led me to teaching, training and mentoring others. I often recommend to my training clients to use the cream, we especially find it useful on our knees during rebounding classes.
Since then, I have had some other issues from my hairstylist job, but other than that I feel strong, I feel like I look strong, and I feel like I have a healthy mind and body. I regularly use the peppermint DripFit cream to soothe my aches and pains in my hands. 
Many times I wanted to give up, but many times I found reasons why I shouldn't. My family history is absolutely littered with heart disease, diabetes, kidney disease and cancer. So I will do everything it takes to stay healthy.
Words I live by….
*YOUR BODY is your vehicle through this PRECIOUS LIFE, you CAN NOT trade it in. What you can do is take the best care of it, to make sure you are here as long as possible.  
*Never say never 
*Never give up on you